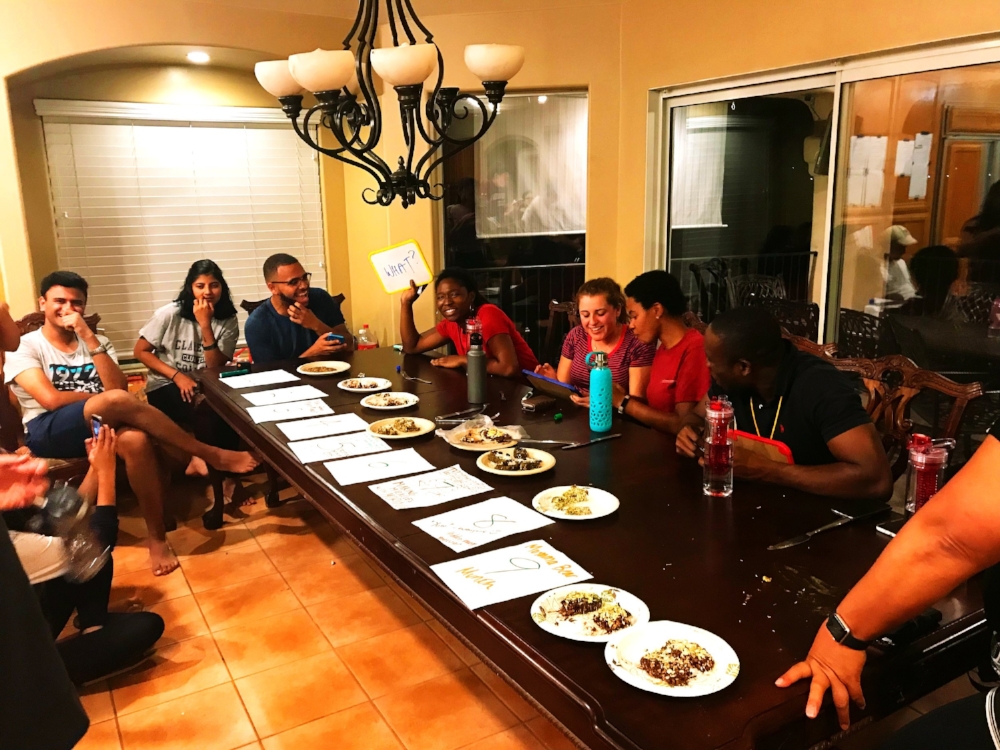 Robert Cain '21
While sitting in the living room listening to my fellow peers share their personal anecdotes, I struggled not to weep. The room and its occupants united over similar passions and championed the "vulnerageous" volunteers so willing to reveal significant pieces of their past, but not before we bused to the Moonshot House.
On Sunday, May 13, thirty-one other CMCers and I traveled to Lake Elsinore, CA for the second annual Moonshot Retreat hosted by the Kravis Leadership Institute. The one-week program armed student participants with the tools necessary to create and execute world-changing ideas. This was accomplished by having eight successful social entrepreneurs (SocEnts) accompany us for the entire week while also serving as mentors, granting us unfettered access to their knowledge, wisdom, and advice. According to Scott Sherman, KLI Senior Director of Social Innovation and Co-Curricular Programming, the backstory behind "Moonshot" stemmed from how putting a man on the moon was once considered an impossible task, one requiring a radical solution. Therefore, "moonshot thinking" symbolizes the innovative ideation required to solve tough problems, render lasting impact, and change the world with projects that could improve at least a billion lives.
The end goal of the Moonshot Retreat was to inspire Moonshoters to take action on their ideas by turning them into a social venture. Judging by the participation among the eager Moonshoters who engaged with the SocEnts and asked relevant questions, it successfully achieved its goal. However, the program accomplished so much more.
After arriving to the magnificent beachfront abode, we quickly began to introduce ourselves through two icebreaker activities. The two exercises eased our transition into the house, shattered barriers, and allowed us to share parts of our stories, which prepared us for Tuesday's activity.
Icebreakers were followed by a panel where the eight award-winning social entrepreneurs discussed their moment of obligation and most memorable failure. The panelists included Echoing Green Fellows, Gemma Bulos, KLI Director of Social Innovation and Impact, and Scott Sherman—in addition to the six other SocEnts. Echoing Green identifies and invests in the best emerging social entrepreneurs who are bringing innovative solutions to solve the most pressing issues of our generation. EGs unparalleled community of talent consists of more than 700 innovators who launched programs globally.
● Lauren Burke, founder of Atlas: DIY, a cooperative empowerment center for immigrant youth and their allies that offers college and legal resources.
● Kwami Williams, co-founder of MoringaConnect, a vertically integrated supply chain improving the livelihoods of smallholder farmers by turning the leaves from their moringa trees into superfoods.
● Donnie Smith, executive director of Donda's House, a nonprofit organization that provides free access to the arts for youth.
● Kohl Gill, founder of LaborVoices, an organization that promotes transparency among supply chains and labor markets.
● Sara Leedom, co-founder of African Entrepreneur Collective (AEC), a collection of business accelerators that support local entrepreneurs to drive job growth.
● Rebecca Hui, founder of Roots Studio, an organization that digitalizes the work and stories of traditional artists from India, Indonesia, and Jordan, and licenses them onto stationery, apparel, and home decor.
Listening to the SocEnts speak about their experiences comforted me because their stories contextualized their success with relatable obstacles. According to Burke, "these stories may sound linear, but please know that we all experienced failure along the way." Moreover, I reveled in the fact that their career journeys were informed by passion rather than driven by greed or majors. Often times, we let salary sizes dictate our career paths when we really should worry about the size of our impact.
The following days revealed to Moonshoters what it meant to be a social entrepreneur.
Monday challenged us to devise a solution that would help people overcome failure, which also introduced the lead-design model whereby an idea transforms into a tangible product.
Tuesday required us to tell our personal stories publicly because according to Bulos, by identifying past challenges, you are able to understand and realize your current passions. In the words of Shanil Verjee '21, "this activity made me realize how much people have been through and how strong everyone is. The people around us are fighting everyday, even though it's not always visible. It's amazing how little you actually know about someone until you find the courage to ask and listen."
Wednesday directed us to imagine a solution for our assigned problem. My group was assigned the task of transforming education—a casual request. We all worked through the lead-design model, ending the day with each group presenting their tentative pitch—not knowing that a surprise awaited us on Thursday.
Rising at 5:30am was not easy especially after finals week, but compensation for the inconvenience came in the form of a surprise Disneyland field trip. We spent our day exploring, bonding, and completing challenges that dared us to step outside of our comfort zone by talking to strangers, pushing boundaries, and daring greatly. The moral being to get comfortable with failing: fail hard, fail fast, fail often.
Friday tested the skills and knowledge we learned throughout the week with one final pitch. The way in which Moonshoters delivered the information exceeded creative expectations. Groups wowed us with the uniqueness of their ideas, which ranged from utilizing aquaponics in the farming of almonds to implementing a software program that would monitor terrorist activity on social media. The solutions offered by my peers embodied the tenets of "moonshot thinking," with one group receiving an award for the most investable idea.
By the end of the program, I was not ready to leave, especially after the last activity: back gratitude. Attached to everyone's back was a blank sheet of paper where your peers and mentors would write thoughtful messages about you.
On Sunday, the motto stated that "we are the heroes we've been waiting for." Together, with our collective knowledge and skill set, we have the potential to positively impact the lives around us. It's our duty to accept this responsibility because if we don't, then who will?
I challenge you to survey your passions so that you are not blindly wandering down a path destined for dissatisfaction when you could be intentionally marching down a more fulfilling path filled with opportunities to make a difference, change the world, and assemble a career built on your passions.