By Tierra Patmavanu '18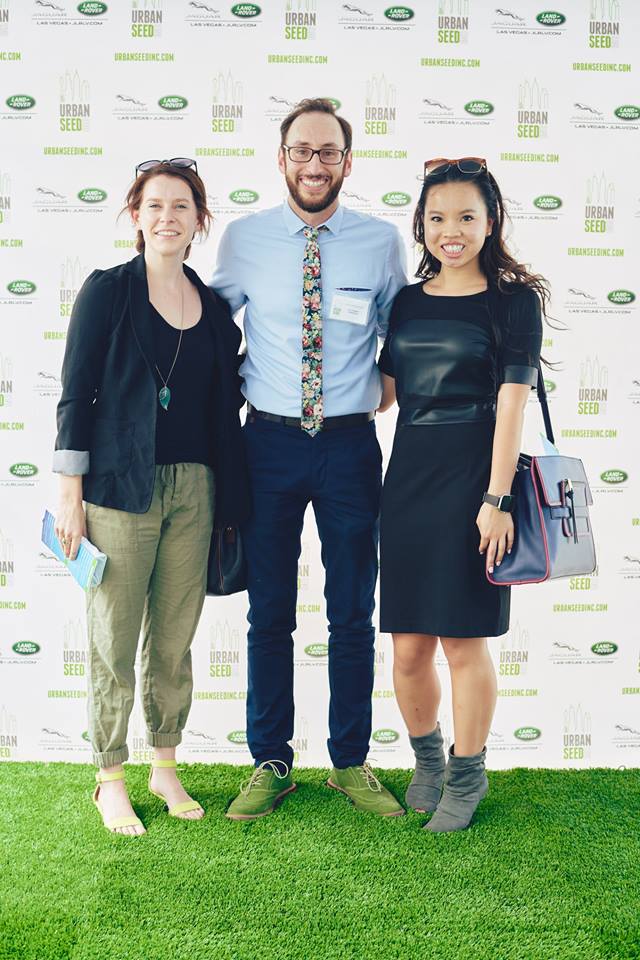 As a native from Las Vegas, combined with my interest in public service, I was excited to work at an organization that is integral in creating a culture of sustainability in Southern Nevada. From my previous work as a law clerk at the Legal Aid Center of Southern Nevada, I was interested in working at this local nonprofit because of its community-centered mission and values.
In the land of waste and excess, it is easy for the leaders in Las Vegas to be portrayed as such; however, the contrary is true. Las Vegas has now become a national leader in sustainability. With their philanthropic spirits, major businesses in Southern Nevada have adopted social responsibility into their daily practices. I found it exciting to be at the forefront of the community's sustainable initiatives and address critical issues that will affect future generations.
Green Chips, as Southern Nevada's leading voice in sustainability, partners with local corporations, like Caesars Entertainment and MGM Resorts International, government agencies, and other nonprofit organizations to develop sustainable efforts. Throughout this internship, I had the opportunity to understand the transformational nature behind sustainability. While many believe that sustainability only encompasses the environment, this concept captures a diverse range of areas that are essential for a community's prosperity, such as the economy, health, nature, build environment, energy, social equity and transportation. Through events like the annual Convene for Green conference and the publication of the organization's first State of Sustainability Report, Green Chips aims to expand Southern Nevada's definition and understanding about sustainability.
Working at Green Chips was particularly rewarding because of the challenging projects. I applied my research and analytical skills that I have developed through my work as a research assistant at the Kravis Leadership Institute in designing Sustainability Toolkits. In this particular project, I researched the trending practices for energy efficiency and eco-friendly consumption, surveyed clients, developed marketing materials, and made recommendations to the Executive Director to encourage businesses and individuals to adopt sustainable practices. I also met with former and potential clients at events, such as Urban Seed Inc. Ground Breaking Ceremony, Las Vegas Business Press Green Awards, and U.S. Green Building Council Discussion on the State of Sustainability in Southern Nevada.
From my research with Professor Ron Riggio, I learned about the qualities of a transformational leader. A transformational leader is not only an effective communicator with good judgment and strong interpersonal skills, but more importantly, has the ability to identify a problem, create a vision to guide the change, and works with the team to achieve the goal. Following the guidance of the Executive Director of Green Chips, someone who I would characterize as a transformational leader, was an enlightening experience. When challenges arose, she was able to inspire her employees with her encouraging words during our weekly team meetings. By directly engaging with transformational leadership, I learned how to incorporate these qualities to my leadership style.
I learned more about leadership after attending NV Energy's Senior Energy Assistance Expo, an event intended to provide assistance to senior citizens who struggle to pay their energy bills. Following this function, Green Chips received 300 requests for energy assessments. The large volume of audits in a short span of time presented a challenge for the organization. With a considerable number of audits, I quickly finished my project and shifted my priorities to attend to the organization's most pressing needs. As an intern, I had the opportunity to work at every stage of NV Energy's PowerShift Energy Assessment program, from scheduling the audit to pulling the client's usage and assisting with performing the audit.
However, what I love most about working at Green Chips is the culture. The people I worked with were not only incredibly smart, but also very passionate about the organization's work. In a small, collegial environment, Green Chips is practically a family and I was grateful to see my contribution increase the organization's overall productivity and efficiency. Today, I am thrilled to continue assisting Green Chips with managing its social media presence where I am responsible for generating community outreach materials, actively promoting sustainability to target audiences, and analyzing the web traffic, page views, and Facebook and Twitter followers.
About the Author: I was born and raised in Las Vegas, Nevada, where I attended a small, private school, The Meadows School, for 13 years. Since I enjoyed the small classroom environment and wanted to pursue a strong liberal arts education with an emphasis in economics, I viewed Claremont McKenna College as a perfect extension. I am currently a junior, double majoring in Philosophy, Politics, and Economics (PPE) and Economics with a sequence in Financial Economics.