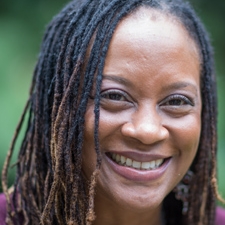 Tracy Gray
Plenary Lunch Panel – Funding Social Innovation
Social innovation has great potential to create a more equitable and sustainable planet. As more people align their gifts, passion, and purpose–and "doing good while doing well" emerges as a career pathway– the funding landscape must also innovate to drive this progress forward. What strategies are investors, philanthropists, and companies using to catalyze opportunity and support visionary emerging leaders? Hear from our panel about funding risky ideas, innovative strategies to make the funding landscape more inclusive, and what is required to help emerging innovators create significant positive social change.
Tracy Gray is the Founder & Managing Partner of The 22 Fund, an impact, growth venture capital firm with a job creation mission and investment strategy to increase the export capacity of Southern California manufacturing companies, targeting women- and minority-owned businesses. She is also an Executive in Residence at the Los Angeles Cleantech Incubator (LACI) and chairs LACI's Diversity in Entrepreneurship Advisory Council. In addition, Ms. Gray is the founder of the non-profit We Are Enough (WAE). WAE's only mission is to educate ALL women on how and why to invest in women-owned, for-profit businesses or with a "gender lens." Ms. Gray was named one of the 50 "Women of Influence" in business in Los Angeles and is featured in the recently released book "200 Hundred Women: Who Will Change the Way You See the World".
Ms. Gray was formerly Senior Advisor to the LA Mayor, an investment professional at a venture capital fund and a systems engineer on the Space Shuttle program. Ms. Gray holds a B.S. in Mathematical Science with an aeronautics emphasis from the UC Santa Barbara and dual MBAs from Columbia University and UC, Berkeley.