By Linnea Uyeno '20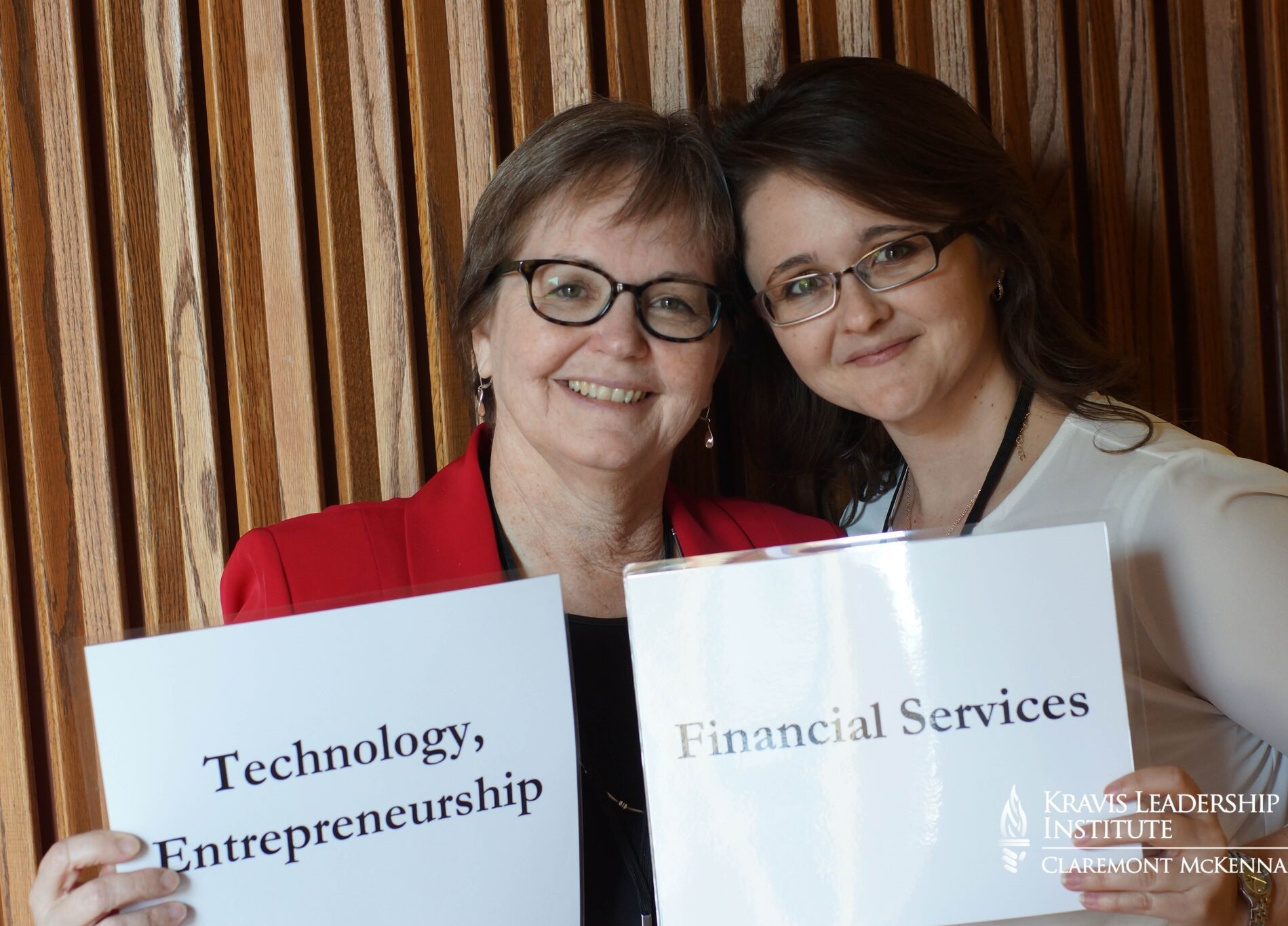 As a freshman at CMC, I have had the opportunity to attend a few career-oriented conferences on campus. While they have been informative, they have tended to feature predominantly male panelists. This year's Women and Leadership Workshop was a completely different experience for me. It was truly inspiring to listen to the success stories of alumnae. They shared perspectives that opened my mind to a variety of different topics: talking about overcoming discrimination, starting families, navigating work-life balance, and becoming leaders in their respective industries.
The keynote speaker, Dr. Victoria Halsey, Vice-President of Applied Learning for The Ken Blanchard Companies, offered a few tips that I would like to share with my female peers who weren't able to attend the conference. As a writer, I have always understood the power of articulation. However, as a woman, I have never put much thought into how I must express my thoughts differently than a man. Dr. Halsey opened my eyes to this, and started the conference with a framework to help women lead themselves.
She pointed out the fact that a strong leader must know themselves well before they can lead others. They must know their strengths and weaknesses, so that they can leverage their talents and seek help on their shortcomings. Situational self-leadership is about knowing how to help others help you. "Often times as women we feel like we have to do things ourselves," said Dr. Halsey. In the workplace, many women feel like a task will be taken away from them if they ask for help. Frequently, women are worried that they have to appear perfect to be seen as equivalent to male coworkers. In fact, "sometimes, asking for help can lead to over-supervision," proclaimed Dr. Halsey.
In order to combat this, Dr. Halsey suggested that we rephrase the way we ask for help. Instead of saying "I need help" you can say "Do you have five minutes: so that I can run my ideas by you. Then I can make a decision." By doing this, you are taking ownership, and are giving your leader the opportunity to relax. This language gives you the power to be the decision maker. "We create the leaders we get by the language we use," said Dr. Halsey.
Dr. Halsey ended the talk on an empowering note. "This language is one of the greatest gifts that you have as a female. It allows you to be able to find the right people, so that you can ask for what you need, rather than just sitting quietly hoping that someone is going to teach you."
After the keynote speech, we all headed to McKenna Auditorium for breakout discussion groups. We had the opportunity to explore different career clusters such as: tech, science, consulting, real-estate, non-profit work, law, finance, entrepreneurship, entertainment, education, and more. Each table had a few alumna that shared her perspective on her specific industry. Then we split up into tables focused on specific questions ranging from asking for a promotion to how to navigate social interactions at work. They offered encouraging words of advice.
I continued the conversation surrounding situational leadership with alumna and Vice President of IT at Warner Bros, Cheri Strelow, and her daughter Katrina Soelter, who works as a Financial Advisor at Wells Fargo Advisors (a trade name used by Wells Fargo Clearing Services, LLC)
"Be a self-advocate. Know what you want, and don't be afraid to ask for guidance or for a specific role. I have done this a number of times. My mom and I always talk before I have go into any of those conversations. We will literally script out what I want to say. The best way to do it is to actually to remove yourself a little bit from the situation, so that you can see where the other person is coming from and how your language can support that," said Katrina Soelter.
The pair exchanged understanding nods, as if they had cracked a secret code to navigating inner-office politics as a female. Both of them have overcome gender barriers. Cheri Strelow was one of the first women to walk the CMC halls, as a part of the Pioneer class of 1980. She later became a trailblazer in the IT industry. Her daughter, Katrina, shared the advice her mom passed on to her.
"I just kept asking [to be an advisor]. My bosses were thinking a five year plan, but I was thinking a two year plan. When I asked, I would come prepared. I would have the script ready. One of the things my mom has taught me is to not be afraid of silence. Don't be afraid of being succinct, and then waiting. Sometimes silence is more powerful, specifically in workplaces where women might feel like they are not being heard, or if they feel someone has made a comment that may not be appropriate. I believe that sometimes it can be more powerful to look at someone. Then you are not pushy. You have made your point," said Katrina.
Next, I had the opportunity to interact with alumna and KLI Fellow, Claudia Raigoza'14, who is a Product Manager at First Data Corporation. "There is this unique confidence characteristic that all women at CMC have. You don't realize what it means until you are outside of it. There is this confidence that is learned [from] being in such a small arena with like-minded and completely different individuals. It's an experience that I can't even put into words," said Claudia.
It's events like Women and Leadership Workshop that promote this unique confidence. Frankly, I was inspired by the stories of these strong female leaders and trailblazers. I know that they too, have walked down the career pathway. They may not have had the easiest road to the top. However, now that I have seen the success that they have had along the road, I feel like I too can walk along the path with a little confidence in my heeled step.