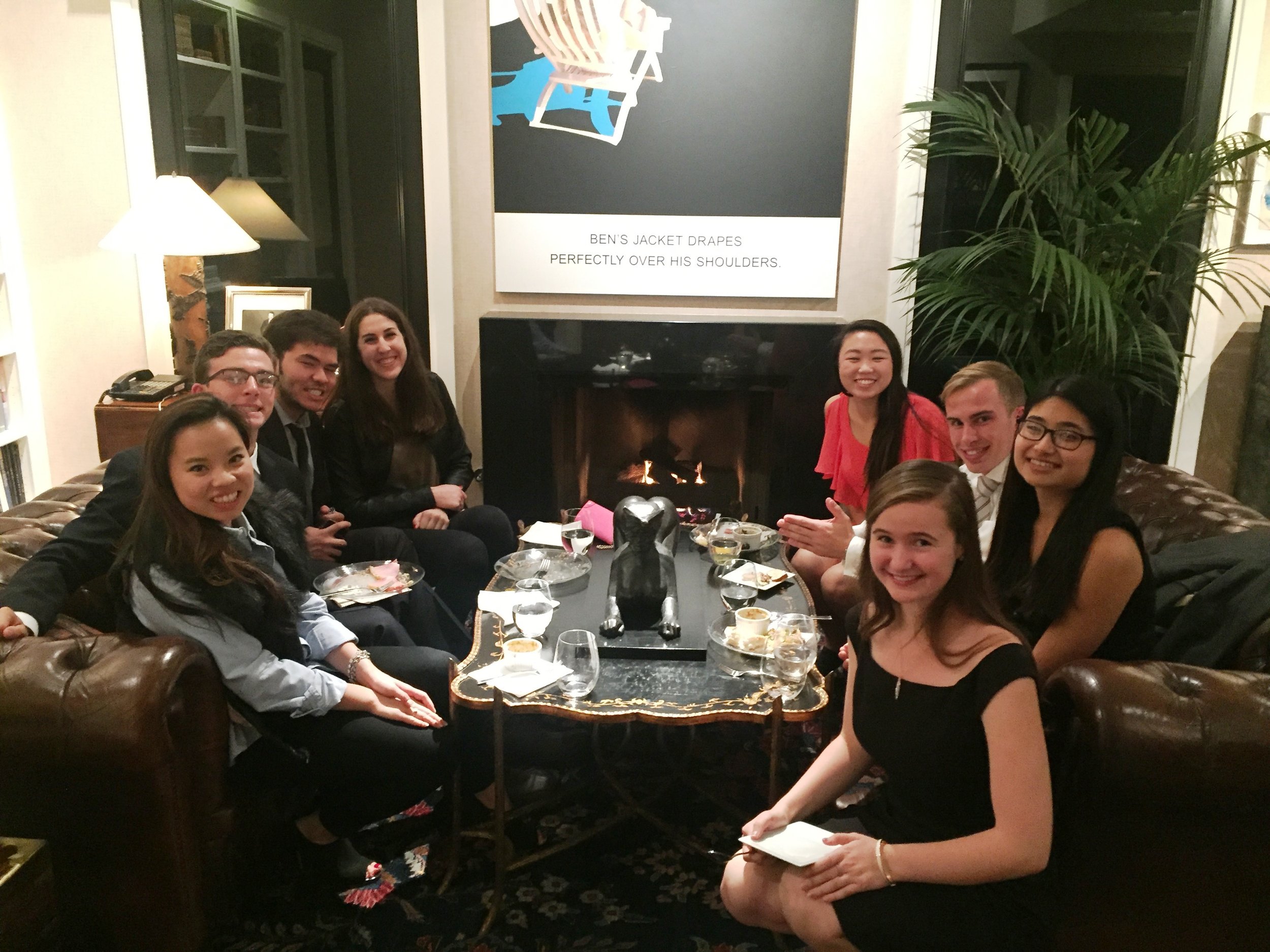 The feeling of awe was instantaneous as soon as I entered this special home, enjoyed an assortment of memorable hors d'oeuvres and the world's greatest cheese (literally), downed a glass of champagne, and looked over the city of Los Angeles from Bel Air. The true wonder of the night though was the personal art collection of our much appreciated CMC Board of Trustees member, Christopher Walker '69. As you walked inside, you noticed ancient Japanese guardian sculptures, a Chinese ceramic horse from the Han dynasty standing proudly. As you continued to wander and peruse, you would see an impressionistic painting of an Australian sea ide, a Picasso-like indoor sculpture of a paint-splattered flamingo, and a variety of contemporary paintings spanning across every wall. The vibrancy and contrast undoubtedly portrayed Mr. Walker's fine yet eclectic taste, but the true magnificence behind it all were the stories of his experiences at the Sotheby's auction houses, his career work across Asia that led him to buy certain pieces, and his friendships with the artists themselves.
Undoubtedly, art is a reflection of society and an extension of an artist, but this holds true for a passionate art collector as well. These weren't investments, rather, they were works of creativity that still spark Mr. Walker's memories, curiosity, and deep thoughts, altogether creating a place of errant and pure emotions. For all of us fortunate enough attend this KLI sponsored event, I think we can acknowledge that the experience truly captured our imagination, inspired us to appreciate the creative arts, and above all else, recognize that art can create an environment and mindset of healthy escapism.
Although this experience was one of a kind, all of us can still partake in these joys of civilization by exploring our backyard more frequently: Los Angeles. The Getty, Broad, LACMA, and MOCA are all museums less than an hour away hosting treasures that are just waiting for us to view. It was Mr. Walker's challenge to us to not only visit these museums, but to take them in – not by merely walking through, but by standing in front of every piece for two minutes, internally noting every detail, feeling the mood and emotions presented, andto simultaneously think critically and subjectively about the pieces. It is through this process that we can begin to appreciate genius, innovation, and mankind's creations. Better yet, we should all try to make our own art, whether for fun, practice, or even to be a goof, but nonetheless we will see the challenges an artist masterfully undertakes.
So, it is my challenge now to you to get involved with the art community in some way now, whether by taking a weekend to explore L.A., actually checking your emails from CREATE Club to try out painting for an hour or two, or even submit a request to the CMC Student Art Council to get funding for materials and trips. We all know that our CMC community is full of energy and creativity, and we are a liberal arts college. So let's actually represent the ideas of this through art and design, reshape our community by starting with ourselves, and undertake new endeavors, because who knows, you might just find your next passion or hobby, or at least become more cultured through the process of it all. If nothing else, I think we can start to think in a more convoluted and interdisciplinary manner, and that will surely bring a little more color and vibrancy into our lives and onto our campus.